Hitorhike Ultralight
Portable Cot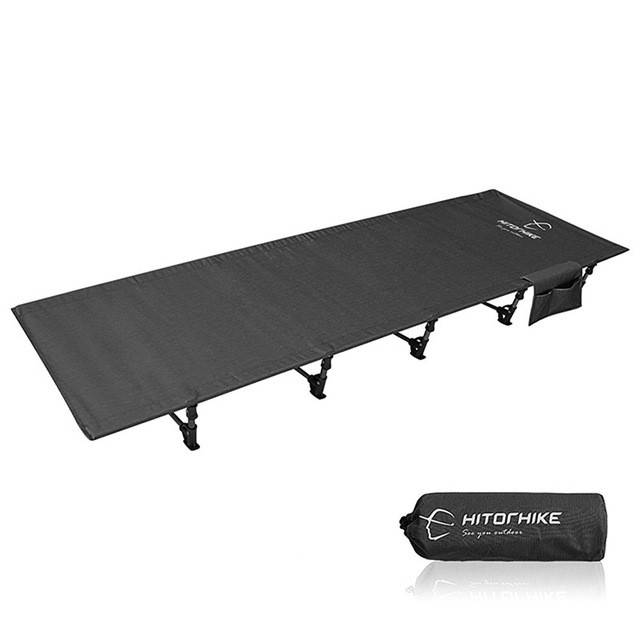 Rest Easy, Even in the Wild

Easily Fits in a Backpack

Light, Durable and Easy to Use
100% No-Risk Money Back Guarantee
"...It was very intuitive and set up in a snap. I slept comfortably off of the ground. Being 6'1" it was very accommodating with plenty of room...."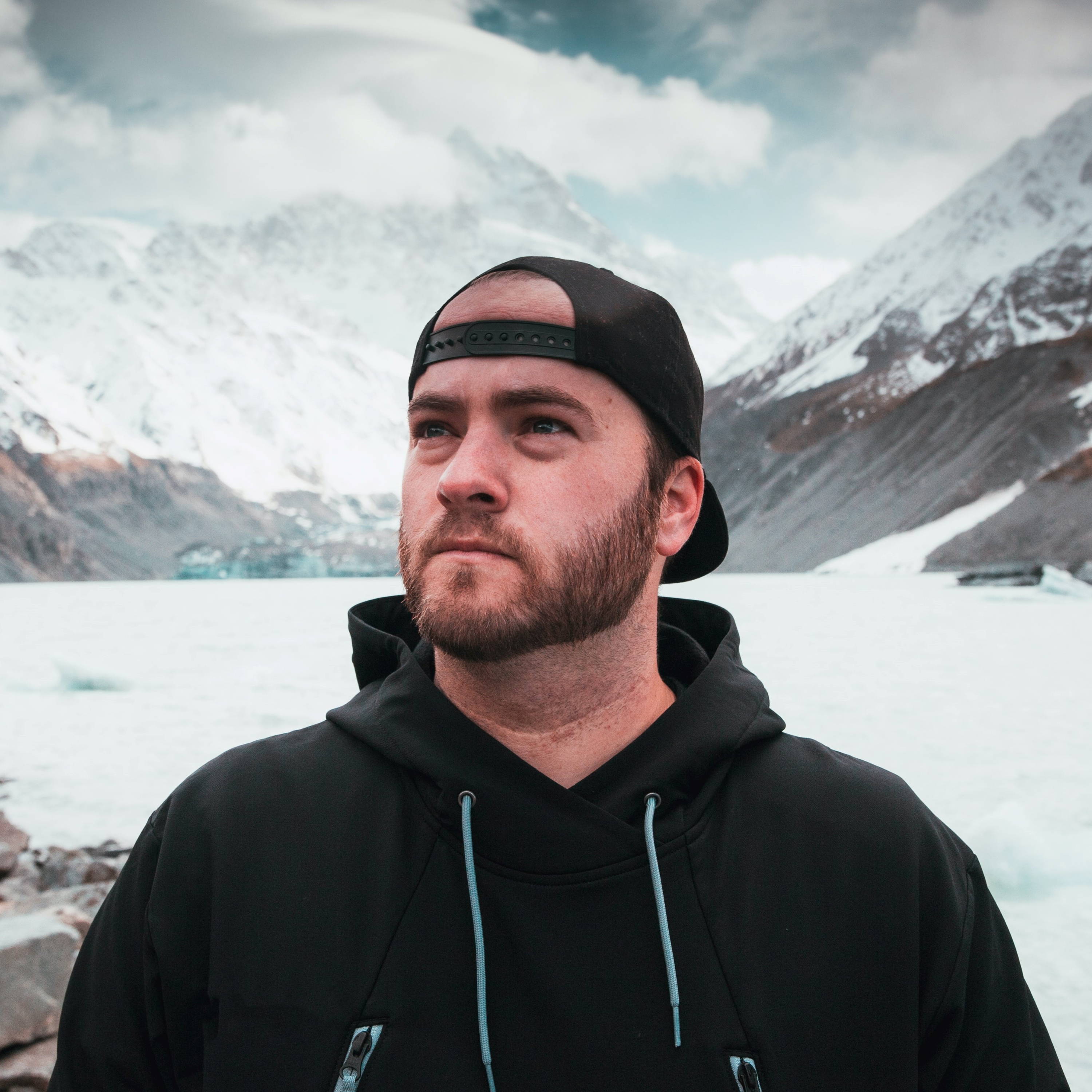 A Cot that Handles Everything
When you combine ultra-durable design, lightweight materials and innovative folding, what do you get? We know the answer because we've tried it ourselves, and we can't wait for you to experience the difference. Once you are ready to set off bright and early, simply fold away in seconds, clear camp and move out with less than 5 lbs on your back.







Ready for your next adventure?
Go anywhere and see anything with an ultra-light portable camping cot that can handle anything. You could be taking it easy on a weekend away with friends, exploring the wilderness solo, or just getting away from it all with the comforts of home by your side. No matter where life takes you, you'll sleep right through the night.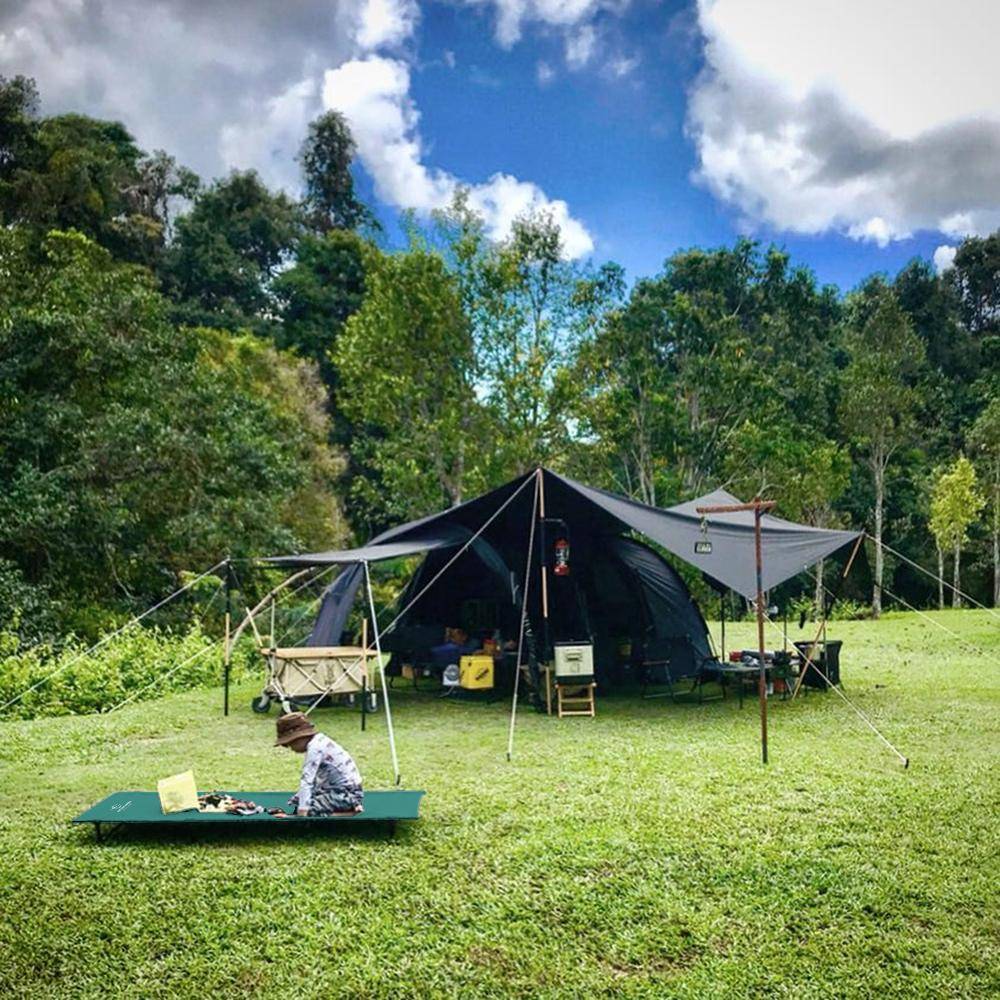 What is Hitorhike's Ultralight Portable Cot?
Hitorhike's Portable Cot makes an excellent bed for your tent or any temporary sleeping situation. Constructed from nylon cloth and aluminum tubing, it is sturdy, compact and lightweight, making it perfect for all of your outdoor adventurers. The internal shock-cord frame structure allows for easy setup and breakdown, while the lightweight nylon build promotes portability. The whole set-up weighs in at only 4.8 lbs and folds down easily fitting into your backpack or luggage bag when on the move. It can also be stood on end to make more room in your tent during the day on those longer camping trips.
With 6.7 inches of ground clearance this cot will keep you up off the damp ground. Use this sleep system for up to 2-seasons with just a sleeping bag. In a cooler environment, you may add an insulting sleeping pad, but you never need as much insulation as you would normally need for sleeping on the ground. As an added bonus use the space under the cot to store your shoes or trekking poles.
Set-up your Ultralight Cot in 2 Minutes!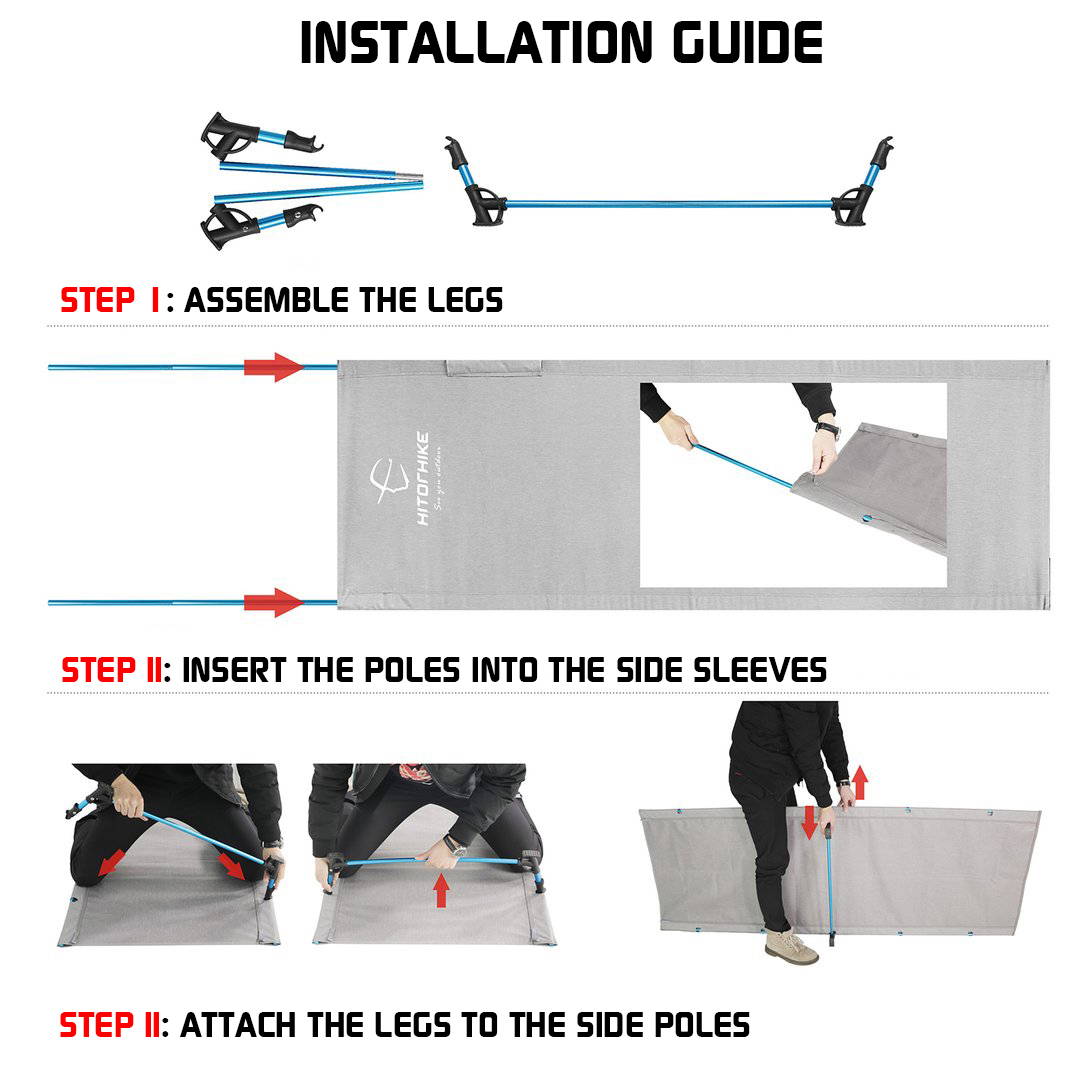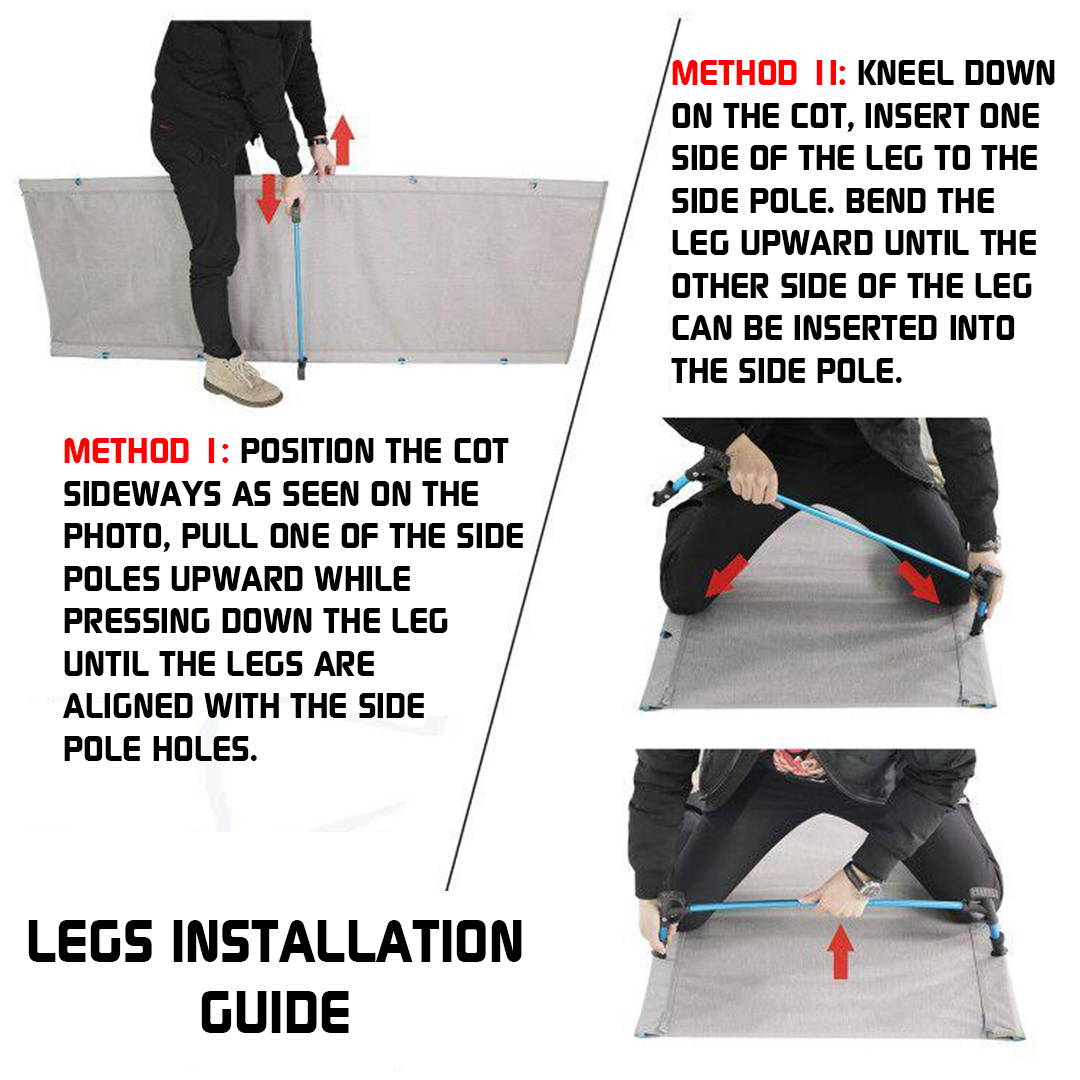 Why Choose a Hitorhike Cot
Weights in at only 4.8lbs

Fits Easily into a Backpack

Set-up Takes Less than 2 minutes
Only Rated for 200 - 240 pounds

You don't want to carry it far

Too Big for Your Backpack
Easy set up and quite comfortable
The cot came just in time as I was leaving for a scouting trip. So the first tome I was able to look at it was as I was setting up my tent. It was VERY intuitive and set up in a snap. I slept comfortably and off of the ground. Being 6'1" it was very accommodating with plenty of room. Great product which I recommended to a sales person at another outdoor store.
Worked perfectly
This little cot was perfect. I had limited space to pack for a car camping trip. I was able to take this along in my suitcase. It is a little stiff to set up, but really not a problem. So comfortable for sleeping! It really was the perfect solution. Also easy to breakdown and pack back up. Plus Jacob's Well Outfitters were awesome. They worked with me to make sure I got the cot in time for my trip. All around a great experience.
Great for camping
Set this up right when it arrived and it's actully pretty comfy to lay on and holds my weight well (135lbs) but also holds my husband (over 200lbs) can't wait to use this on my camping trip this summer.
Works in the snow
Went out on a daring -18 degree Fahrenheit camping trip with a tarp and a 5 gallon bucket stove. It didn't sink into the packed snow like I thought it would which is nice. I am not certain on the amount of heat I lost through the bottom of it since it was cold no matter what I did, but I slept my few hours comfortably. I am 6'2" and 195 pounds (208 pounds with clothes and boots) I didn't feel like I was going to break it- and I sat on it like a bench and was rough with it for the most part. This thing is super light weight- great for us outdoorsman who also smoke and generally disregard our bodies for temporary pleasure. I say its worth the money- cannot say how long it will hold up under my level of abuse but so far its been good on staying together. So simple, even a politician couldn't screw it up.
Great extra bed or for camping.....
This cot works great as an extra bed for guests or will work great for camping as well. Comes with a storage case and folds up small.
Amazing! Great price, weight, stablility and ease of assembly. If in doubt - try it!
Evaluated several cots for weight and cost. I looked at the mountaineering cot that had good reviews but 2.5x the cost. This cot had good reviews but a couple negative comments on assembly. I watched a few videos which were right on point for assembly. The key is to connect the legs to the canvas while holding the canvas perpendicular to the floor. With the ground as the opposing pressure, connecting the legs is a breeze even for a small female.
Upon arrival, I assembled the cot in minutes and slept on it outdoors the first night. It was very comfortable. If you need every inch of the cot length, you may feel the ends being a bit flexible. Being on the shorter side, I am able to sleep within the cot legs, so it is very stable even while turning multiple times in the night. Was comfortable on back, sides and stomach sleeping. Fabric was firm and not scratchy. The cot fabric is about 7 inches off the floor and was very supportive. No where close to bottoming out to the floor for me or husband.
I love it! What was even more amazing was delivery. I ordered it late Saturday, it shipped on Sunday and arrived on Monday and I do not have Prime.
Highly recommend this cot with a great price, weight, fabric and comfort. The weight is low, with the box stating 4.2 pounds. I am taking it backwoods in Alaska. Will be so much better than an air mattress. The price and weight is right! If in doubt, give it a try. I did and a highly satisfied customer.
High quality
Durable, well made cot. My 11yr old put it up in about 3 minutes (easy, didnt even read the instructions) . It held my 190 lb teenager without any issues. Came with a little carrying pouch. This is just as good if not better than the more expensive cots we have bought locally. Worth the money for sure. A must have to be Ready for camping season!
Great deal
Done in 5 minutes without instruction.very easy to assemble yet looks like a well made cot bed.
I think it's a great deal compare to those cot bed over $100
Serves a niche purpose which was not mine.
I am very conflicted about this cot; it is better than I expected in some ways but also aggravating in others. For this type of cot (compact, lightweight) it is great. Weighs nearly nothing, you can cram it all into the bag they provide, and although the fabric is questionably thin --- it has the side benefit it doesn't trap heat. I have hated air mattresses for this reason. It is comfortable to lay on if you can remain still and are not a wide person. Everything seems well built.
On the other hand, this cot relies on your weight pushing down on the legs to keep it all together. Ingenious design; as long as you are on it the thing is sturdy as a rock. Good luck, however, getting in/out and shifting your weight too much. It can cause one of the rods to pop out from under you. I used it several nights on a hardwood surface and found that getting out or in of the cot often caused a rod to pop out (usually one of them in the middle). You may have better performance on a less slippery surface (say, camping) but it is very annoying. I also would like to make a note that the holes used to insert the support poles are not reinforced in any way. This could lead to tearing in the future, as I already had a piece of the fabric caught on a hook of the cot.
If the return window had not passed, I would have returned it to be honest. This may be a worthy product if you're looking for a lightweight cot for actual deep wilderness camping --- as it is way better than any bedroll or ground mat you're going to get. However, if you're looking for a cot for when you stay over someone's house or have a guest... pass on this one.
Super comfortable and supportive; easy way to upgrade camping experience
This is one of my favorite online purchases ever. I love camping but have noticed sleeping on the ground, on my very nice and comfortable inflatable camping pad, has been less and less comfortable the last few years. I'm chalking it up to getting older. I've hence been looking forward to camping less lately.
This cot is *awesome.* I just camped with it for five days and could not be happier with this purchase. My enthusiasm for camping not only returned but has grown thanks to this simple device.
The cot is super comfortable, makes the tent feel more like a little room with a bed in it--you can sit on it while changing and sorting through gear etc.--gives you space underneath to store things, and packs up in a very small and lightweight package to boot.
I'm 6'1" and 180 lbs and have room to spare in all directions, feel very supported, and once again, it's super comfortable.
The price is fantastic for the value and the upgraded experience your camping will turn into. I really can't recommend it highly enough.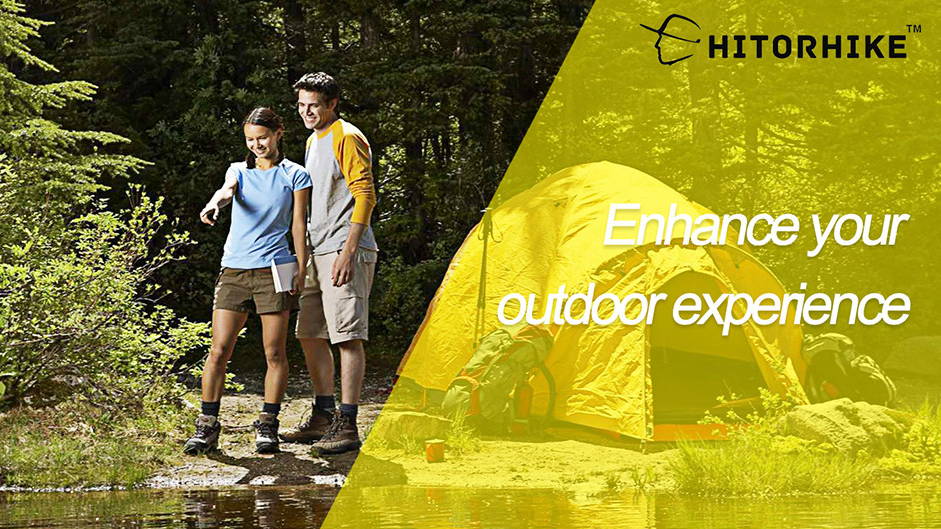 Jacob's Well Preferred Partner
Hitorhike camping products are known for Quality and Durability in the field. Lightweight simple designs that work well and can stand the test of time, this is who Hitorhike is.
How is this cot for side sleepers?
This cot is comfortable enough for any sleeping position, a good nights sleep is guaranteed!
Do the feet damage or put holes in a tent floor?
Under normal conditions, No, this cot spreads your weight over several wide feet so doing any damage to the tent floor is highly unlikely.
Just exactly how big is this portable cot?
Our portable cot is 75 inches long and 28 inches wide and stands about 6.7 inches off of the ground.
How much does this Portable Cot weight?
This Ultralight Portable Cot weighs in at just 4.8lbs.
What kind of material is this portable cot made out of?
The cot is made from a ripstop nylon shell and an aircraft aluminum frame.
Is there anywhere to store my stuff?
It comes with a side pocket that is perfect for keeping your phone or wallet up off the ground.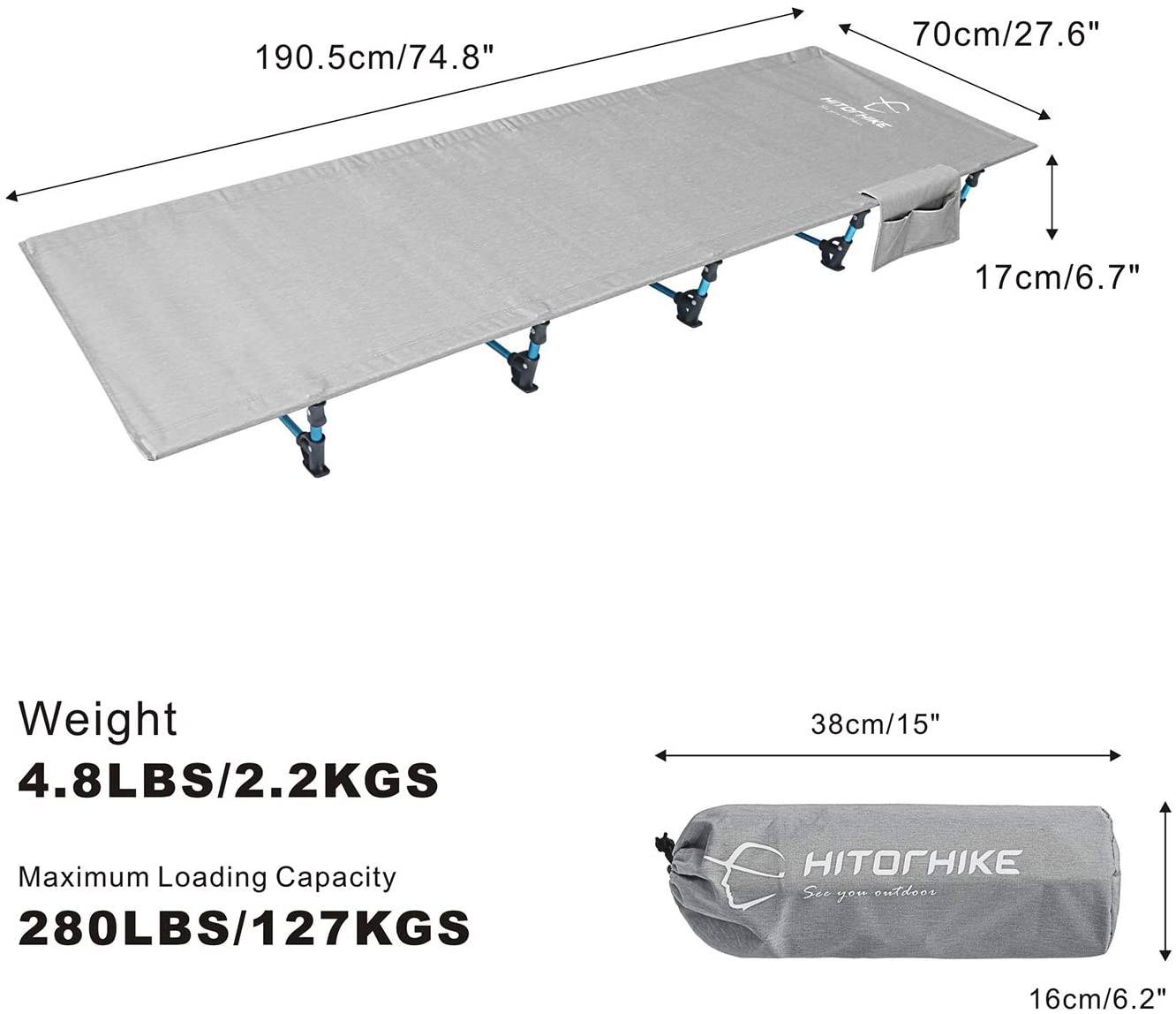 Jacob's Well Outfitters is located just outside of Austin, Texas. Our company was born out of a love for the outdoors and living a lifestyle of adventure. To do those things well you need the right equipment. We curate a list of quality Brands in order to provide the top notch equipment you need to Live Your —Adventure Lifestyle—